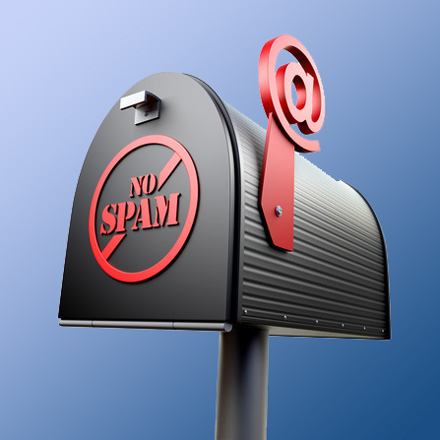 It's a new year and the aggressive solicitations are coming in full strength.  You'll probably notice an increased number of special offers from "people" who want to redo your website, offer you a loan, sell you insurance, provide photo editing services, etc.
The senders of these messages are not really "people" but SPAMMERS. These messages are getting through your spam filter because the SPAMMERS are employing similar mailing tactics of legitimate marketers.  The messages are personally addressed, contain the name of a sender, have a company address and may be digitally signed.  All of these elements of a properly written e-mail will fool the SPAM filter and allow the mail to arrive in your in-box.
"Spamming is when one person or company sends an unwanted email to another person. Spam emails are the computer version of unwanted "junk mail" that arrives in a mailbox, such as advertising pamphlets and brochures. Spam emails are usually sent to try to get the person to buy something or do something else that will cause gain for the sender." Wikipedia
Many of the well written spam messages start with:
"My name is Jason and I'm a website designer. I'm reaching out to find out…"
"I just wanted to tell you about a company that may be able to help your business.…"
"Hope this message finds you in the best of health! We are a team of specialists…"
"We scan millions of public records to deliver you the most up-to-date data possible…"
"I have analyzed your current website which is outdated in terms of user experience, sales conversions, design and layout…"
"Find Your — Credit History Fast…"
"My name is  Sanjay Rajput, and working with a reputed leading S.E.O. Company in INDIA having the experience of getting our customer's websites top in Google, Yahoo…"
You don't know these "people".  In fact they don't know you either.  Their e-mail was crafted to appear personal.  SPAM senders are becoming cunning and are starting to follow the rules of legitimate marketers.  Except that SPAMMERS don't have permission to send mail to you.
The bottom line is that if you didn't ask for the e-mail, it is an unwanted solicitation and should not be trusted.  If you have any questions or would like to figure out how to get rid of this clever spam, please contact me.
Remember: Banks don't send e-mail.

  Legitimate companies don't send e-mail unless you requested contact or joined a mail list.  Unwanted solicitations are usually Phishing schemes. These deceptive tactics are used to get your personal information and a credit card.  Do not respond to the unsolicited e-mail.  Add them to your SPAM folder and stay safe.