Is the current definition of "influencer" too narrow?
Everyone has some influence, but people with larger networks use more technology to spread theirs, according to "Understanding Influence, and Making It Work For You: A CNet Networks Study."
Highly connected people use e-mail to keep up with their dozens of contacts. In fact, they use e-mail far more often than the phone to stay in touch.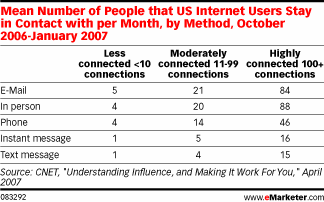 The study also found that regardless of how connected they were, everyone was interested in about the same number of topics, and that influencers tend to pass along information they consider both unique and trusted. "Influencers" in this sense are people interested in a topic who are trying to spread the word, not just an elite set of people with charisma or sway.
The number of "influencers" who could contribute to a word-of-mouth campaign is therefore huge, since most of the population is at least moderately connected.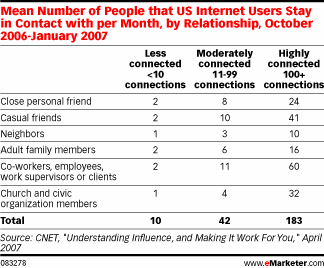 It all comes back to having something worth spreading the word about. Marketers surveyed by Osterman Research for BoldMouth, a Faber, Va.–based word-of-mouth marketing company, said that satisfied customers, along with great products or services, were the most important things needed to generate word-of-mouth.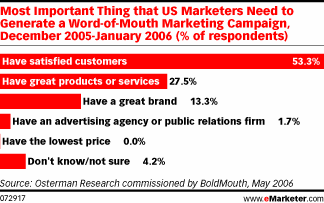 Spread the word more effectively. Read eMarketer's E-Mail and Word-of-Mouth: Connect with Your Best Customers report.